SLICES FOR DEVICES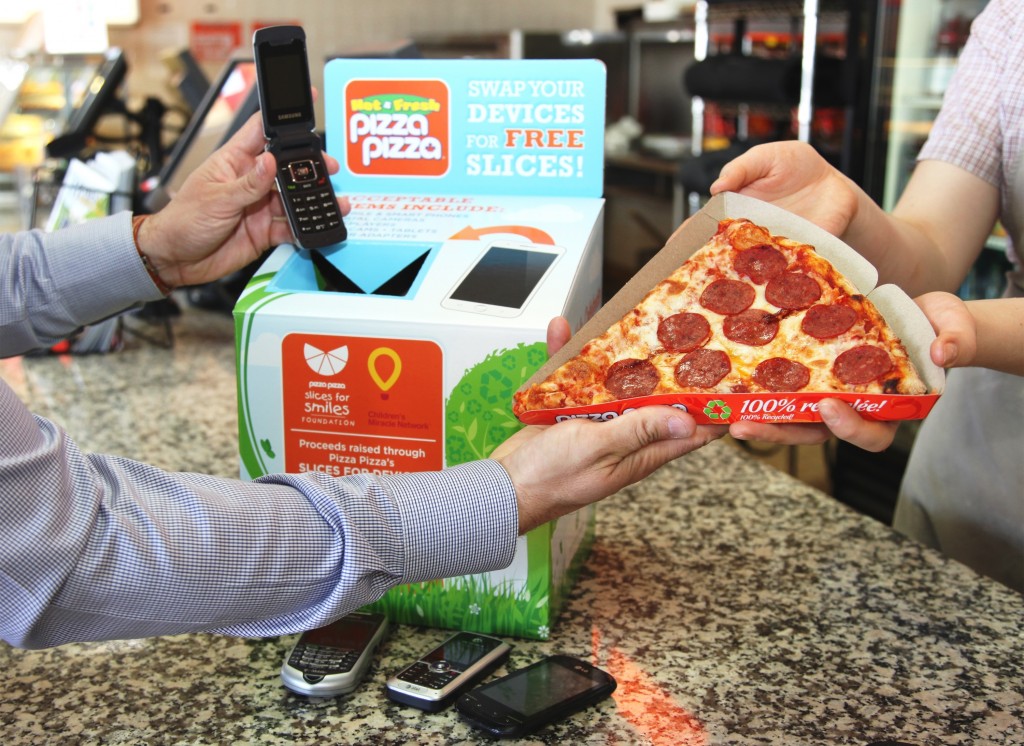 For the 13th consecutive year, businesses, schools and customers participated in Pizza Pizza´s annual Slices for Devices program, resulting in the collection of close to 6 tonnes of electronic waste, making it the most successful year to date.
The program took place throughout the month of April 2016, also known as Earth Month, and with the help of the Electronic Products Recycling Association (EPRA) and Ontario Electronic Stewardship (OES), all collected devices will be recycled responsibly. Proceeds generated from the program will be donated to Children's Miracle Network through the Slices for Smiles Foundation.
As part of the program, customers were invited to bring in their small electronics to participating Pizza Pizza locations across Canada to recycle them in store, in exchange for a free slice of pizza. For larger donations, companies and schools registered online for the school and business program to exchange their electronics for Pizza Pizza gift cards.
It´s estimated that in Canada, each person disposes of 45 pounds of e-waste each year, with more than 80 per cent of these electronics being disposed of improperly, ending up in landfills. The Slices for Devices program aims to reduce environmental disruption, and since launching in 2004, has helped divert 17,000 products from landfills.
Slices for Devices will return in April 2017, so stay tuned for details on how to participate!

DID YOU KNOW?
Out of use electronics are composed of reusable materials like plastics, copper and precious metals that can be recycled into materials and put back into manufacturing. 

Your smart phone is filled with precious metals. In fact, one tonne of recycled phones yields 324 times more gold than the same weight in ore from a traditional mine.

Last year, Pizza Pizza diverted 6,447 lbs of unwanted electronics from landfills.

ABOUT EPRA
As a recognized industry-led not-for-profit organization, EPRA and OES provides an approved environmental compliance program for manufacturers, distributors and retailers of electronics. It is responsible for implementing and operating, on behalf of its stewards, a responsible program for the recovery and reclamation of electronic products in accordance with standards established by EPRA.
EPRA and OES accepts and recycles a range of regulated electronic products.  For information on what products are accepted and to find a drop-off location near you, visit www.recycleMYelectronics.ca.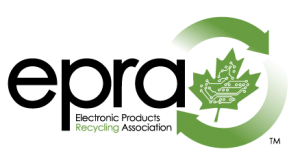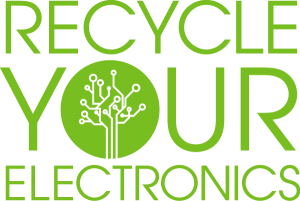 For more information or to contact us:
Nicole Chin
Torchia Communications
416.341.9929 Ext. 230
nicole@torchiacom.com

Kathleen Stelmach
Torchia Communications
416.341.9929 Ext. 227
kathleen@torchiacom.com