SLICES FOR DEVICES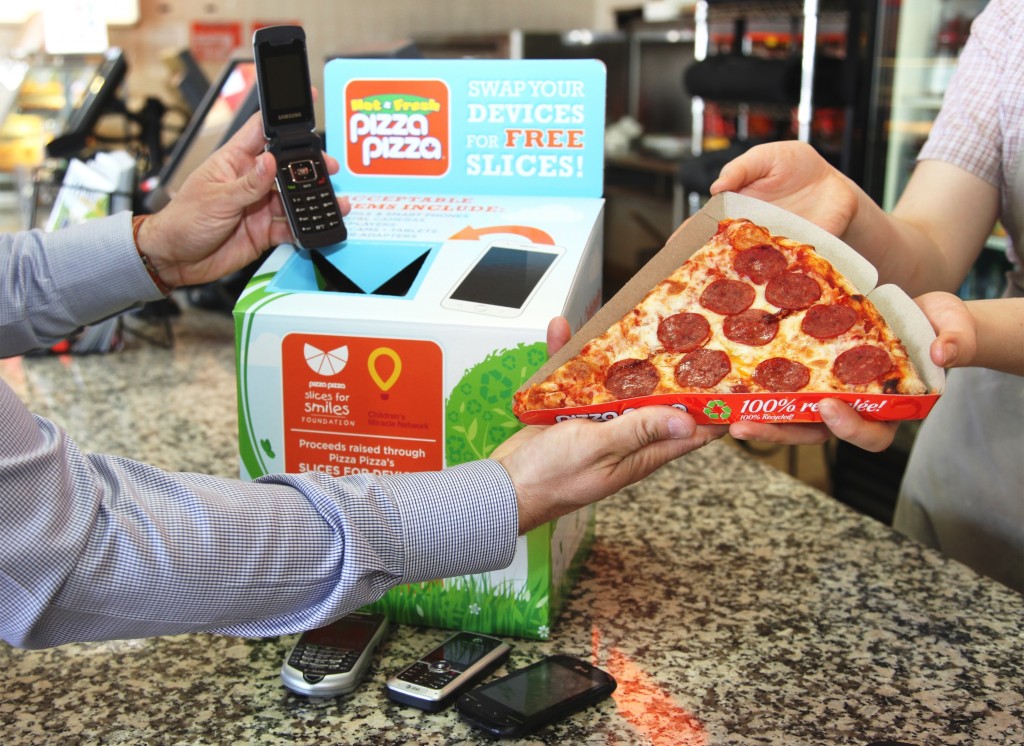 Recycle an old device, get a free slice!
Each April, to mark Earth Month, Pizza Pizza holds its Slices for Devices campaign at traditional locations across Ontario, Quebec, Manitoba, Saskatchewan and Nova Scotia. Now in its 15th year, the Pizza Pizza team has helped divert more than 17,000 electronic devices from landfills.
Through our partnership with the Electronic Products Recycling Association (EPRA), customers can drop off their small electric devices such as mobile phones, digital cameras and handheld gaming devices, and get a head start on spring cleaning, while helping to responsibly recycle the precious and sometimes delicate materials found in electronic devices.
For each device, Pizza Pizza will give patrons a coupon for a free slice of cheese or pepperoni pizza. All devices are safely recycled by EPRA. As an added benefit, proceeds from the recycling will be donated to Children's Miracle Network through Pizza Pizza's Slices for Smiles Foundation.
How can you participate?
Small device e-waste drop off in-store
Customers are invited to visit their local traditional Pizza Pizza restaurant location from April 1 – 30 to trade in end of life electronic devices in exchange for a free slice of pepperoni or cheese pizza.*
Note: Pizza Pizza express or non-traditional locations such as gas stations, schools, arenas and theatres are not part of this program. Find a traditional store near you here.
The following small electronic devices are accepted at Pizza Pizza stores:
Mobile and smart phones
Digital cameras
iPods and MP3 players
Handheld gaming consoles (ie. Nintendo 2DS/ 3DS, Sony PlayStation Vita)
* Limit 2 devices per customer.
School and business collection program
Businesses and schools in Ontario, Quebec, Manitoba, Saskatchewan and Nova Scotia wishing to participate in the Slices for Devices program are invited to participate by completing the registration form at this link.
Pizza Pizza will reward companies and schools with a $25 Pizza Pizza gift card for each filled collection bin, which can be used towards a pizza lunch or pizza party.
Deadline to register: April 16, 2018
The following items will be accepted through the corporate and school program:
Any large electronic device with cord attached
Monitors, CPU systems, keyboards
Projectors, VHS, Video cameras
All small electronic devices (mobile and smart phones, digital cameras, iPods/Mp3 Players, handheld gaming consoles)

DID YOU KNOW?
Out of use electronics are composed of reusable materials like plastics, copper and precious metals that can be recycled into materials and put back into manufacturing. 

Your smart phone is filled with precious metals. In fact, one tonne of recycled phones yields 324 times more gold than the same weight in ore from a traditional mine.

Last year, Pizza Pizza diverted 4.257 tonnes of unwanted electronics from landfills.

ABOUT EPRA
As a recognized industry-led not-for-profit organization, EPRA and OES provides an approved environmental compliance program for manufacturers, distributors and retailers of electronics. It is responsible for implementing and operating, on behalf of its stewards, a responsible program for the recovery and reclamation of electronic products in accordance with standards established by EPRA.
EPRA and OES accepts and recycles a range of regulated electronic products.  For information on what products are accepted and to find a drop-off location near you, visit www.recycleMYelectronics.ca.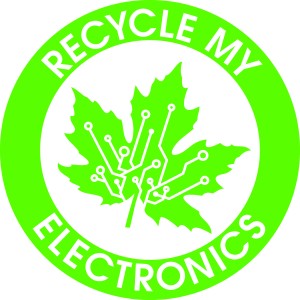 For more information or to contact us:
Jessica Roumeliotis
Torchia Communications
514 288-8290 Ext. 205
jessica@torchiacom.com