Everything you need to know about our Low Carb Keto Crust
WHAT ARE THE MAIN INGREDIENTS IN THE KETO CRUST?
Water, organic coconut flour, egg whites, liquid whole eggs, organic pumpkin seed flour, psyllium husk, flax meal, extra virgin olive oil, coconut milk, ground chia, salt, apple cider vinegar, garlic powder, cream of tartar, baking soda, italian herb, chicory root, yeast.
IS THE CRUST GLUTEN FREE?
Yes, the crust is gluten free BUT the keto pizza is prepared in the same area as our regular crust pizzas. For customers that are gluten intolerant or allergic to gluten (i.e. have Celiac disease), we offer Cauliflower Crust Pizzas, Gluten-free Pizzas and Gluten-free Bites.
Disclaimer: Pizza Pizza is a restaurant environment and so, we unfortunately cannot guarantee a 100% allergen-free environment.
Keto Protein
Lovers
NY Pepperoni, Bacon Strips & Italian Sausage
210
Cals/Slice
Keto Pepperoni
NY Pepperoni, Homestyle Tomato Sauce & Mozzarella Cheese
180
Cals/Slice
Keto Pesto
Margherita
Pesto Sauce, Roma Tomatoes & Parmesan Cheese
180
Cals/Slice
Build Your Own
Keto Pizza
You choose any toppings you want on our Keto Crust
Calories vary
based on toppings
HOW DO YOU CALCULATE "NET CARBS"?
General rule for calculating Net Carbs;(per serving)
Total Carbohydrate
- Total Dietary Fiber
Therefore, for the Keto Crust (per crust), Net Carbs = 32g - 28g = 4g net, non-dietary fibre Carbs.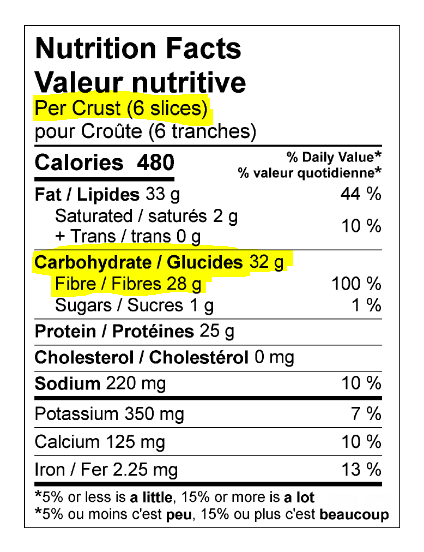 IS THE CRUST VEGAN?
No – The crust contains eggs (egg whites and liquid whole eggs) so it is NOT vegan.
HOW MANY NET CARBS ARE THERE IN THE KETO CRUST?
4g non-fibre net carbs per crust.
WHAT SIZE DOES KETO CRUST COME IN?
Small – 10" with 6 slices
IS THERE ANY ADDED SUGAR IN THE CRUST?
There are no (0g) added sugars in the crust.
WHAT ARE THE FAT / PROTEIN / CARB MACROS OF THE CRUST?
Per crust:
Fat = 33g
Protein = 25g
Total Carbohydrates = 32g
Dietary Fibre = 28g
WHAT IS THE NAME OF THE SUPPLIER OF THE CRUST?
Keto Crust Supplier – Unbun Foods – unbunfoods.com
Unbun Foods is a Toronto based company that specialises in Keto and Paleo-certified, grain-free products.