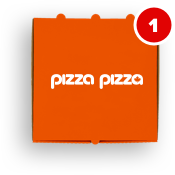 STAY CONNECTED
SIGN UP FOR EMAIL ALERTS
Want the latest hot and fresh news about Pizza Pizza? Just sign up here for investor email alerts.
IR RESOURCES
Analyst Coverage
The following people are designated to provide analyst coverage of the Company or have published research reports regarding the Company in the past.
Derek J Lessard
TD Newcrest
(514) 289-0384
derek.lessard@tdsecurities.com
IR Contact
Christine D'Sylva, CPA, CA
Chief Financial Officer
(416) 967 1010 ext. 393
(416) 270-4761
cdsylva@pizzapizza.ca
Pizza Pizza Limited.
500 Kipling Avenue
Toronto, Ontario
M8Z 5E5
Feedback to Company Chairperson: Shareholders may also provide feedback directly to the Chairperson of the Board of the Pizza Pizza Royalty Corp. at: fundchairperson@pizzapizza.ca.