Our Company
GREAT FOOD MADE BY GREAT PEOPLE
At Pizza Pizza, it's about more than amazing meals. It's about shared values that bring us together, values like respect, pride, and a commitment to diversity. Every day we try to make our stores more successful and our food more delicious. At the same time we're making our operations more sustainable and giving back to the communities we call home.
COME WORK HERE
OUR RECIPE FOR SUCCESS? OUR PEOPLE.
We're Canada's favourite pizza chain for a lot of reasons, but the most important one is our people. Before that box ever arrives at your door, a diverse team of talented people make it happen, from the head office to the kitchen counter.
As a company, we're committed to providing an environment that is inclusive and that is free of barriers. This could be any barrier based on age, race, ancestry, place of origin, colour, ethnic origin, citizenship, creed, sex (including pregnancy), gender identity, gender expression, sexual orientation, record of offences, marital status, family status and disability.
So if you're looking for an exciting position where you can grow and advance with training and support Pizza Pizza delivers. We're proud of our culture of enthusiasm, integrity, and open communication. So check out the latest job listings. We think you'll like it here.
We are a food Manufacturing Company looking for 1 FULL TIME night shift picker shipper/receive. Address: 770 Industrial Ave. Ottawa, ON K1G 4G5 Benefits: Wage is $18.00 per hour (40-44) + monthly night bonus up to $200.00 if applicable Health Benefits after 6 months (company pays 80% and team member pays 20%) 2 weeks paid vacation per year 6 paid…
Read More
December 2, 2022 in
Restaurant Careers
Pizza Cooks for 12908 Sherbrooke St. E – Montreal, QC
Pizza Pizza, one of Canada's top Pizza Restaurant chains, is hiring Cooks! We currently have openings for enthusiastic individuals with strong communication skills - customer service focused people who enjoy working in a fast paced environment, while being part of a dedicated team that serves the public. As a cook, you are proud to serve great tasting food, farmed with…
Read More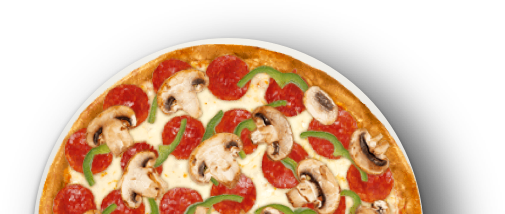 COMMUNITY
DELIVERING TO OUR COMMUNITIES
We're doing our part to help communities across Canada with deliveries of pizzas, supplies and gift cards. So far, our Events team has delivered over 20,000 slices as well as much needed Personal Protective Equipment (PPE) to shelters, hospitals and health care centres.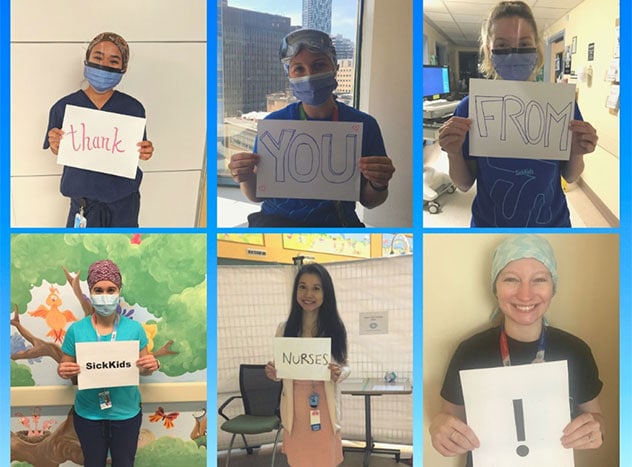 SICK KIDS FOUNDATION
Toronto, ON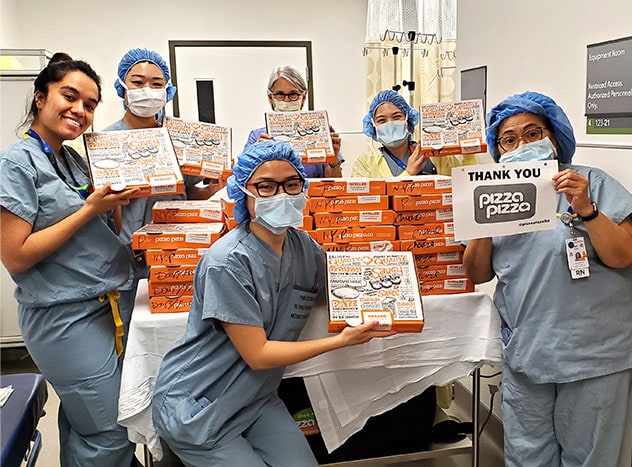 MOUNT SINAI HOSPITAL
Toronto, ON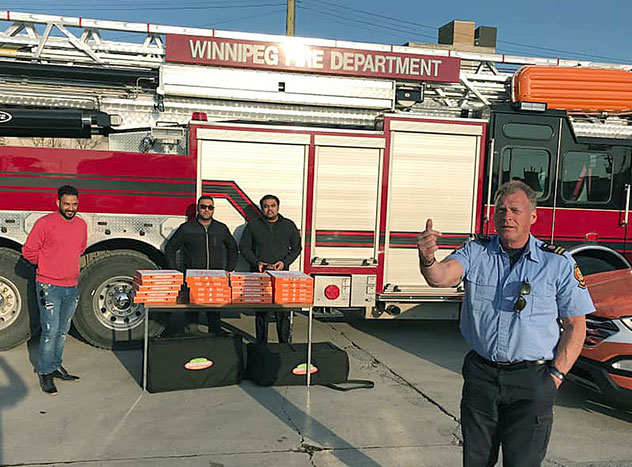 WINNIPEG FIRE PARAMEDIC SERVICE
Winnipeg, MB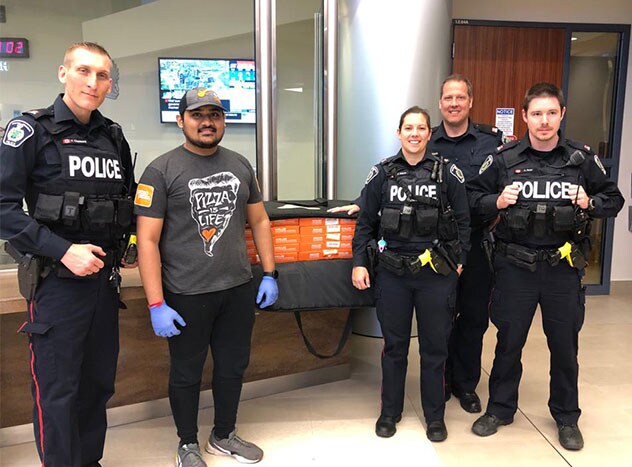 NIAGARA POLICE
Niagara Falls, ON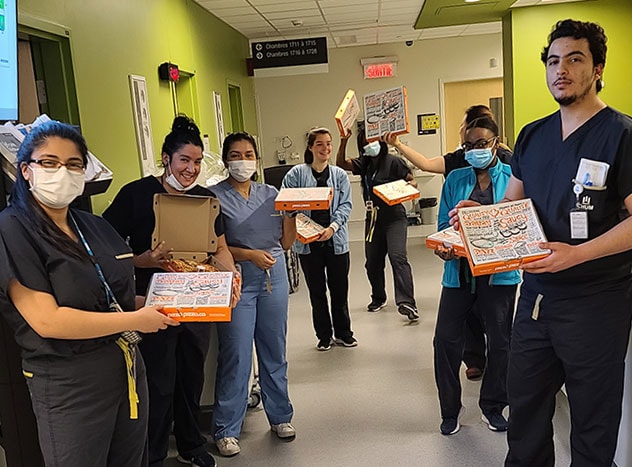 CENTRE HOSPITALIER DE L'UNIVERSITÉ DE MONTRÉAL
Montréal, QC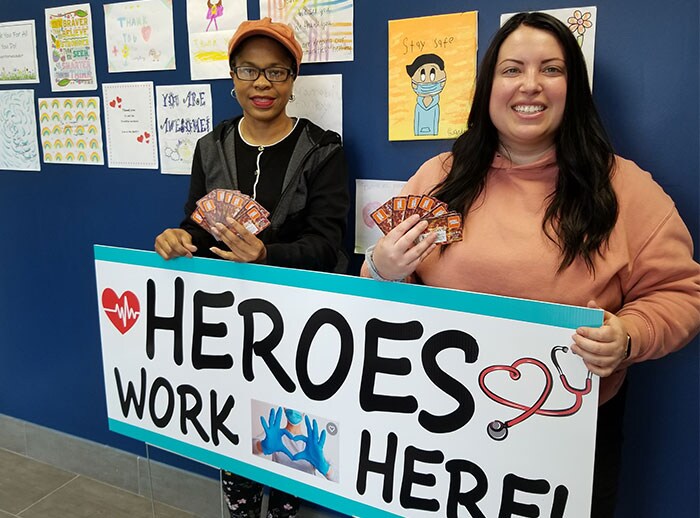 ACCLAIM HEALTH
Oakville, ON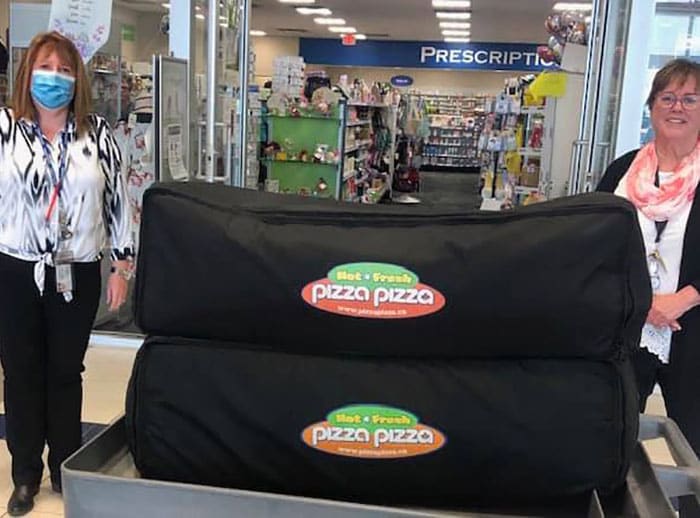 NIAGARA HEALTH
St. Catherines, ON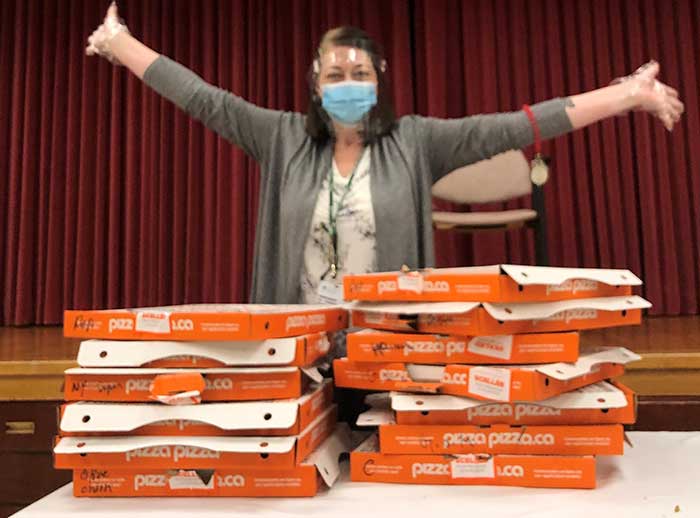 BELMONT HOUSE FOUNDATION
Toronto, ON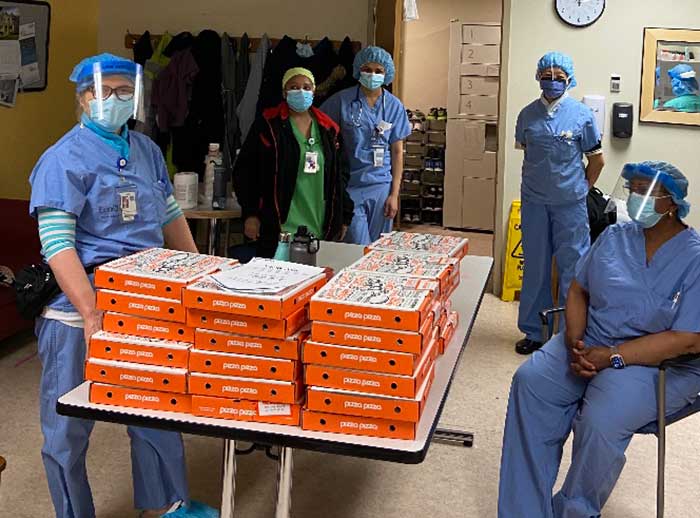 SCARBOROUGH GENERAL HOSPITAL
Scarborough, ON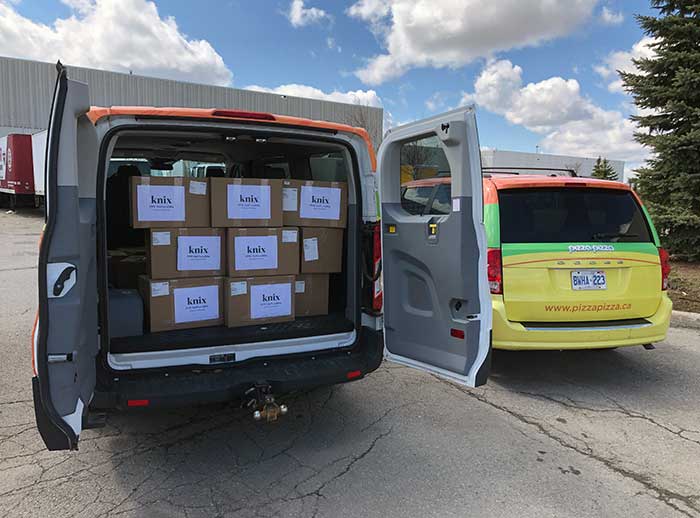 GTA SHELTERS
Clothing retailer Knix has raised over $200,000 from donations in order to purchase Personal Protective Equipment (PPE) for the most vulnerable in our community.  As a proud partner, we made our second delivery of masks, gloves and hand sanitizers to 19 shelters across the GTA.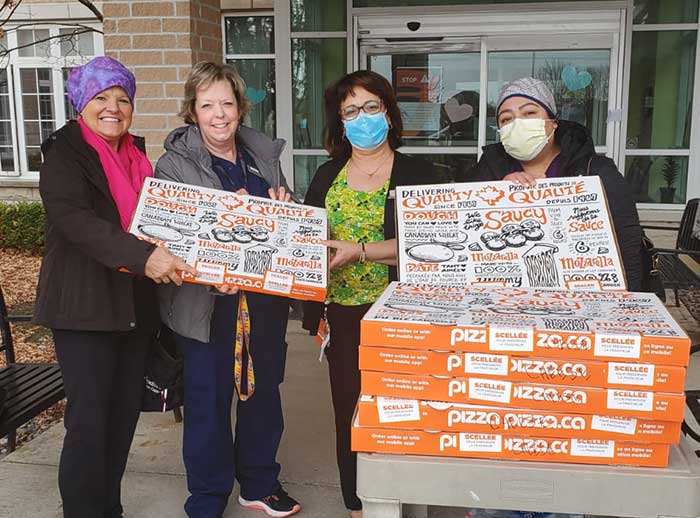 BRADFORD VALLEY CARE COMMUNITY
Bradford, ON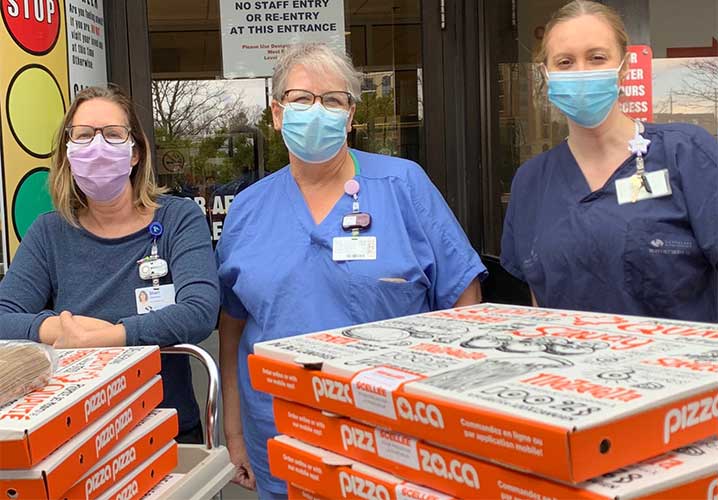 SOUTHLAKE REGIONAL HEALTH CARE
Newmarket, ON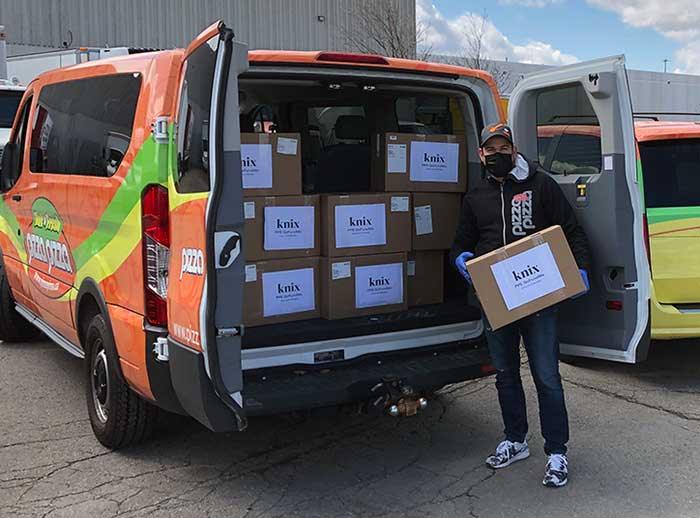 GTA SHELTERS
Clothing retailer Knix has raised over $200,000 from donations in order to purchase Personal Protective Equipment (PPE) for the most vulnerable in our community.  As a proud partner, we made our first delivery of masks and gloves to 19 shelters across the GTA.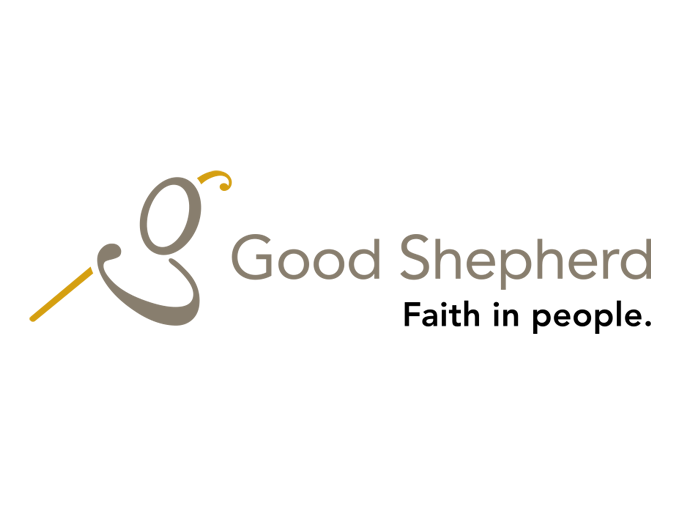 GOOD SHEPHERD YOUTH HOSTEL NOTRE DAME HOUSE
Hamilton, ON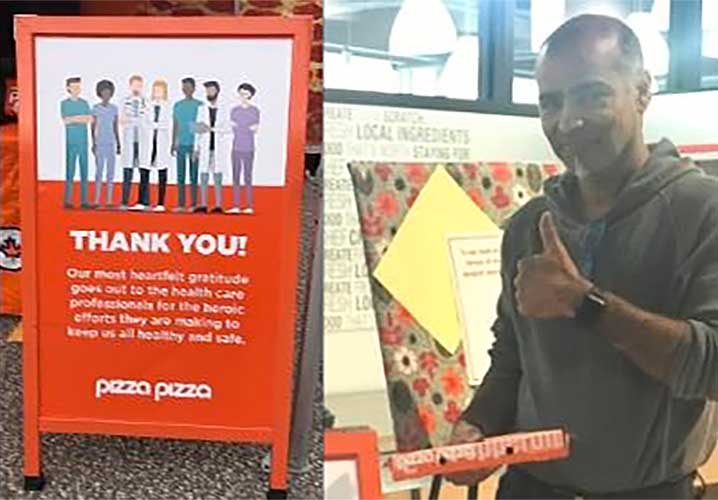 PROVIDENCE HEALTHCARE
Scarborough, ON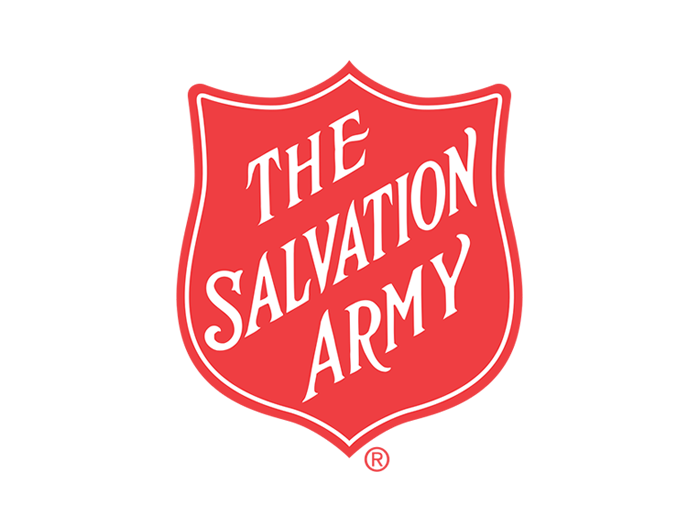 SALVATION ARMY WILKINSON ROAD SHELTER
Brampton, ON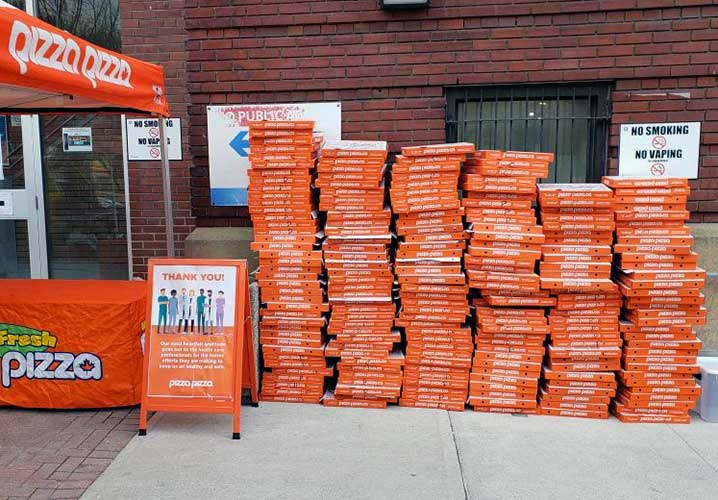 ST. MICHAEL'S HOSPITAL
Toronto, ON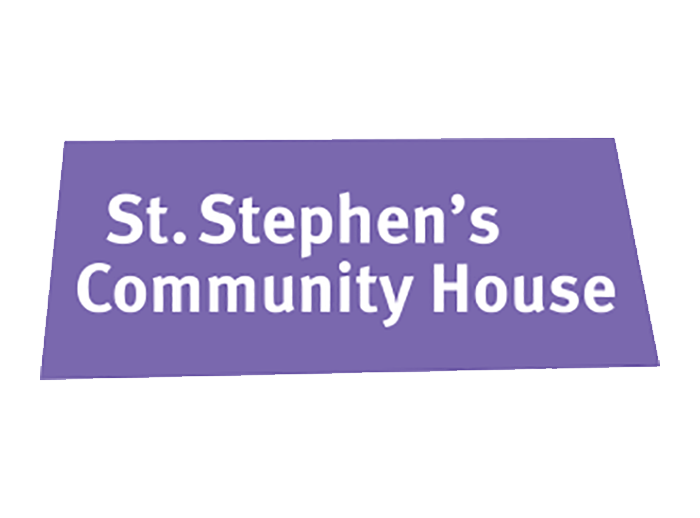 ST. STEPHEN'S COMMUNITY HOUSE
Toronto, ON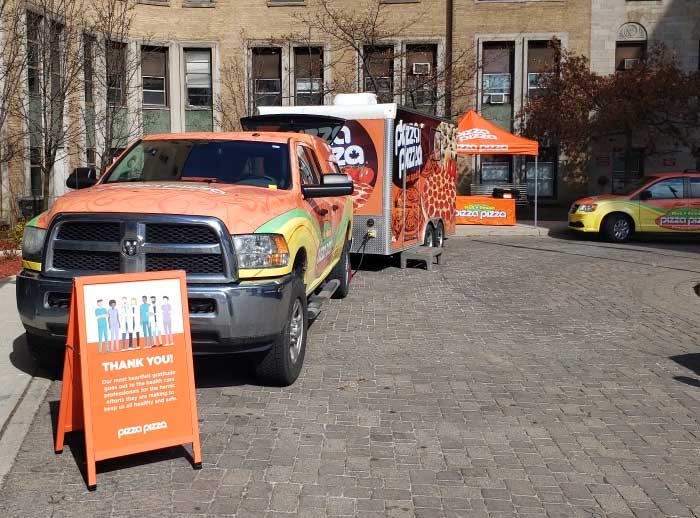 ST. JOSEPH'S HEALTH CARE
Toronto, ON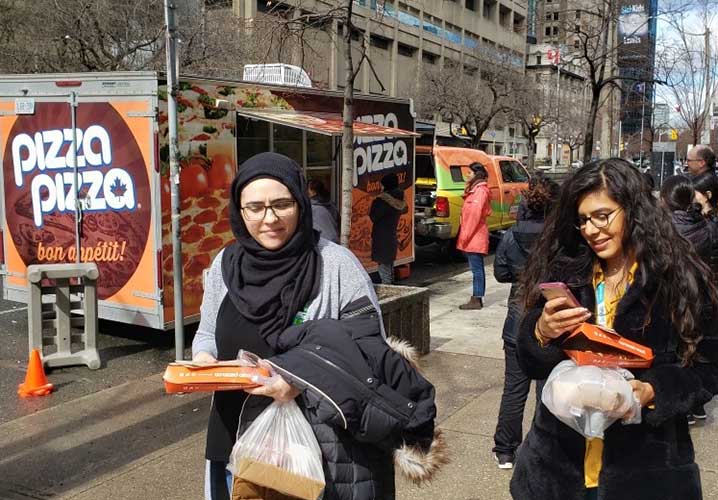 UNIVERSITY AVENUE HEALTHCARE WORKERS
Toronto, ON
RAISING SOME DOUGH FOR CHILDREN'S MIRACLE NETWORK®
Purchase a heart pizza today! A portion of proceeds from each heart pizza will be donated to your local children's hospital.
CHILDREN'S MIRACLE NETWORK®
Children's Miracle Network® raises funds and awareness for 170 member hospitals, 14 of which are in Canada. Donations raised local stay local, and every dollar raised goes directly to the children's hospital that supports that community. Support from Pizza Pizza and Pizza 73 customers and employees helps revolutionize treatment and diagnoses, creates healing environments for kids and families, and provides the right care at the right place at the right time. Together, if we change kid's health, we can change the future.
Learn more about their work at childrensmiraclenetwork.ca and facebook.com/cmncanada.
Hospitals that Slices for Smiles support:
LONDON: Children's Health Foundation
OTTAWA: CHEO Foundation
TORONTO: SickKids
HAMILTON: McMaster Children's Hospital Foundation
QUEBEC: Operation Enfant Soleil
SASKATCHEWAN: Jim Pattison Children's Hospital Foundation
MANITOBA: Children's Hospital Foundation of Manitoba
NOVA SCOTIA: IWK Health Centre Foundation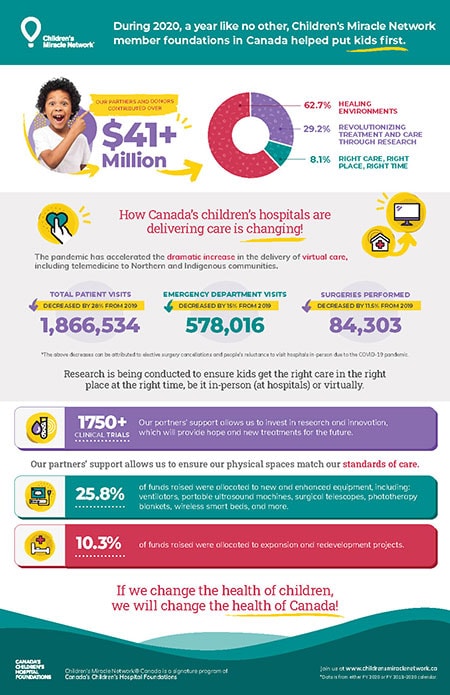 ENVIRONMENT
WHATEVER THE TOPPINGS, WE MAKE IT GREEN
We're sourcing local, but we're thinking global. Pizza Pizza is committed to making our business and our industry more environmentally sustainable, every day. For our communities, our children and our future.
WASTE DIVERSION
We work with suppliers, partners and community groups to encourage recycling and reduce waste with reusable shipping totes. As a result, we've kept over 10 million square feet of cardboard out of landfill at our distribution centres alone.
GREEN ENERGY
In 2009, we moved into a high-tech, sustainable office facility with three wind turbines and rooftop solar panels, reducing our electrical load by up to 15 percent!
OUR SUSTAINABILITY PROMISE IN ACTION:
We've kept over 5,600 cellphones out of landfill via Slices for Devices
Pizza Pizza uses eco-friendly cleaning products at all locations
84,000 trees are saved each year by use of recycled materials in our pizza boxes, napkins, paper bags and more
Our distribution centre deposits flour directly into silos, by doing so 540,000 flour bags are saved each year
All warehouse lighting at Pizza Pizza has been changed to energy efficient 100W bulbs reducing energy
Pizza Pizza´s warehouse also includes a passive solar wall to help heat the space with solar energy
In 2009, Pizza Pizza worked with Tree Canada to plant over 2500 hundred trees in Canada!
Pizza Pizza sponsors Toronto´s 20-minute makeover each year, giving free gloves and garbage bags to help pick up litter