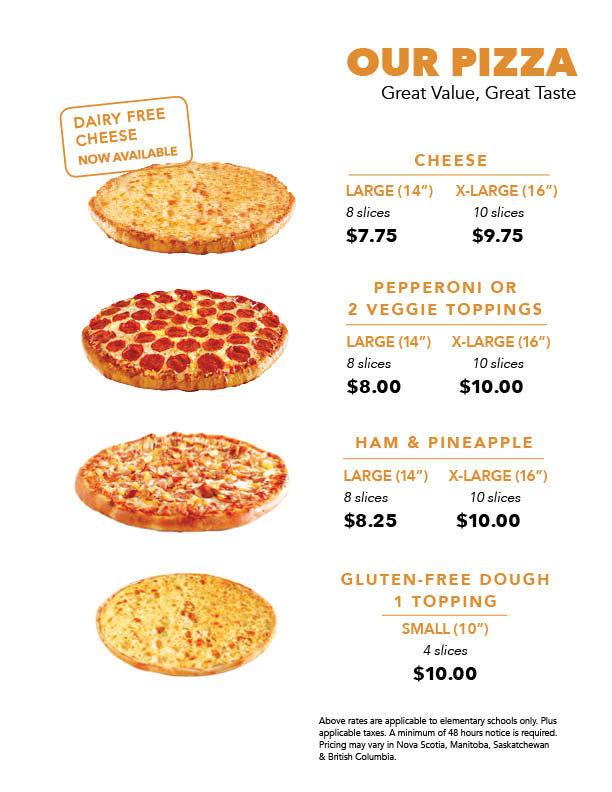 Earn 10%* back on each school order when you register for Club 11-11 Rewards

After 10 orders, redeem your Loyalty "Dollars" towards your 11th order!

Start earning Loyalty 'Dollars' by letting your Catering representative know that you would like to register your school for Club 11-11
Orders must be placed through our Pizza Pizza Hotline at 1-866-310-1111, or pizza.day@pizzapizza.ca

Schools qualify for higher benefits than Club 11-11 cardholders, so the loyalty rewards will be applied to your account through the Catering system

and not via swiping the card

.
*Offer subject to change.
*Discounted gift cards are not applicable to school pricing
Program Commitments
Giving Back:

Pizza Delivered Hot in an Insulated Bag

Our Guarantee:

1 Napkin Min/Per Slice (upon request)

3 to 4 Pairs of Handling Gloves (upon request)                   

Courteous, Uniformed Staff                                                    

Free birthday card offer for your students  
*1 large 3 topping pizza per order
**Orders to arrive within 5 minutes of specified order time, otherwise 1 free pizza will be credited to account
***Subject to availability
Pizza Pizza Book Club: 
Enroll your class in our Pizza Pizza Book Club!
How it Works:
When a student reads 10 or more books* in the school year, they get a FREE SLICE & DRINK!
Schools may register for 1 Book Club card per student per school year.
Only schools that are enrolled with the Pizza Pizza School Lunch Program are eligible for the Book Club Program
*Limit 1 Book Club card per student per school year.
How to Join:
If you are interested in participating in our Book Club, please email pizza.day@pizzapizza.ca to request a Book Club Form.
NUTRITIONAL INFO:
Fuel Them Now, For Change Tomorrow
Compliance:
We are pleased to adhere to the following provincial School standards:
Ontario:
Bill 8 (no added trans fat)

Ontario School Food and Beverage Policy 2011 (PPM 150)
Manitoba:
Manitoba Special Lunch Day Guidelines (Restaurant Choices)
 Nova Scotia:
Food & Beverage Standards for Nova Scotia Public Schools (Moderate)
Saskatchewan:
Nourishing Minds: Towards Comprehensive School Community Health: Nutrition Policy Development in Saskatchewan School (Choose sometimes Category)
British Columbia: 
Adhere to the accommodations: The guidelines for Food and Beverage Sales in BC Schools
Nutritional Information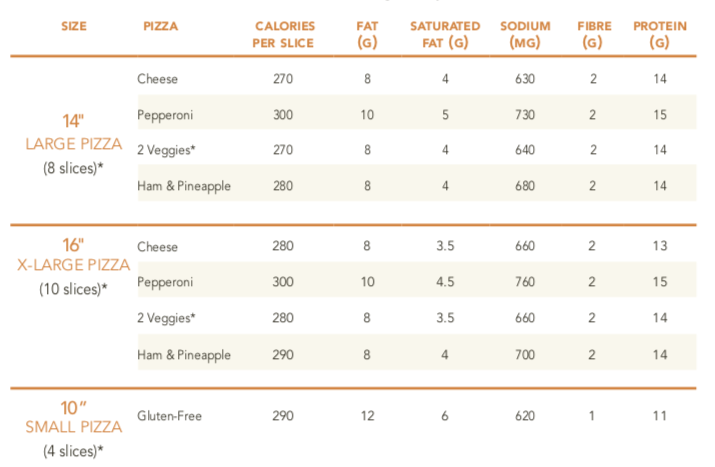 *All pizzas are based on regular classic dough. You may choose whole grain to boost fiber content. *The nutritional information for our 2 vegetable topping pizza is based on mushroom and green pepper, you may choose any one of the two from mushroom, roma tomatoes, green peppers and pineapple. The nutritional information is very similar. Nutrition information was obtained through Genesis R & D Nutritional Labeling software, analysis by Maxxam Analytics inc., an independent testing laboratory and supplier provided information.
Pizza Pizza´s Ingredient List and Allergen List
We care about the health and allergies of you and your students. Below are the menu items that are part of Pizza Pizza´s school lunch program.
Classic Dough
Unbleached and enriched wheat flour, spring water, pure canola oil, sugar, salt, yeast, baking powder, diacetyl tartaric acid ester of mono diglycerides, ascorbic acid, amylase.
Allergen: Wheat/gluten
Whole Grain Dough
Whole wheat flour, spring water, canola oil, pure natural honey, wheat germ, sugar, salt, baking powder, yeast, diacetyl tartaric acid ester of mono diglycerides, ascorbic acid, amylase.
Pizza Sauce
Tomatoes, tomato pure, sugar, salt, modified corn starch, extra virgin olive oil and canola oil, concentrated lemon juice, spices, garlic, natural flavour and citric acid.
Allergen: None
Mozzarella
Pasteurized milk, modified milk ingredients, bacterial culture, salt, calcium chloride, microbial enzyme.
Allergen: Milk
Original Pepperoni
Pork, mechanically separated chicken, beef, seasoning (salt, wheat flour, potato starch, spices, natural flavour, dextrose, sodium erythorbate, paprika oil, sodium nitrite), water, textured soy protein, potassium lactate and sodium diacetate.
Allergen: Wheat/gluten, soy
Roma Tomato
Roma tomato
Allergen: None  

Mushroom
Mushroom
Allergen: None

Green Pepper
Green Pepper
Allergen: None
Pineapple
Pineapple tidbits in light syrup - Pineapple tidbits, water, sugar, citric acid and ascorbic acid.
Allergen: None
We use a variety of preparation methods upon request.
We offer gluten free dough. Individuals with a gluten intolerance or celiac disease can now enjoy gluten free toppings on a gluten free dough
Industry leader in removing industrially added trans fats from the entire menu
Our regular and whole grain pizza crust and sauce are completely vegan
Pizza Pizza is a peanut-free environment
Halal is available upon request
Our cheese is rennet free
We also offer dairy-free vegan cheese upon request