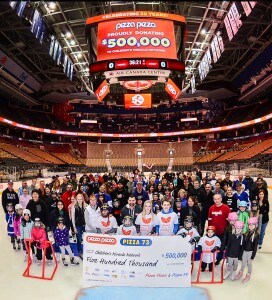 TORONTO, February 27, 2017 – Pizza Pizza and Pizza 73 continue to raise dough through its Slices for Smiles Foundation, announcing that the companies raised a record $500,000 in 2016. The half million mark is the most funds raised to date by the sister chains in the foundation's 10-year history.
The money will be donated to Children's Miracle Network and its member children's hospitals across Canada. All funds will stay within the communities they were raised to benefit the children's hospital for that region to help provide critical treatment, equipment and overall care, and funds research, new equipment purchases and social programs for kids.
"Pizza Pizza and Pizza 73 have been putting smiles on children's faces for decades, so supporting children's hospitals and improving the well-being of children across Canada is important to us," said Pat Finelli, Chief Marketing Officer, Pizza Pizza and Pizza 73. "We're thankful for the support of our franchisees, partners, team members and, most importantly, the generous support of our customers who continually help us to exceed targets, year after year."
Funds were raised through the sale of smile pizzas, events and donations.
"Pizza Pizza and Pizza 73 are great supporters of children's hospitals and the work they do," said Adam Starkman, Chief Development Officer at Children's Miracle Network. "Fundraising programs, like Slices for Smiles, raise funds that help ensure that our member hospitals are able to provide the best possible care to children in their communities. We are grateful for our longstanding partnership with Pizza Pizza and Pizza 73."
The Slices for Smiles Foundation was created in 2007 to help improve the lives of children in communities across Canada and to date has raised over $2.5 million for children's charities.
About Children's Miracle Network
Children's Miracle Network® raises funds and awareness for 170 member hospitals, 14 of which are in Canada. Donations stay local to fund critical treatments and healthcare services, pediatric medical equipment and research. Its various fundraising partners and programs support the non-profit's mission to save and improve the lives of as many children as possible. Find out why children's hospitals need community support, identify your member hospital and learn how you can Put Your Money Where the Miracles Are, at www.childrensmiraclenetwork.ca and www.facebook.com/CMNHospitals.
About Pizza Pizza Limited
For 50 years, Pizza Pizza Limited has been guided by a vision to provide the "best food, made especially for you" with a focus on quality ingredients, customer service, continuous innovation and community involvement. With more than 750 locations across Canada, the company is Canada's pizza pioneer and a quick-service restaurant leader, operating two banners – Pizza Pizza and Pizza 73 – that deliver quality food choices, diverse menus and exciting promotions for all tastes, lifestyles and budgets. Visit www.pizzapizza.ca and www.pizza73.com for more information.
– 30 –
Media information:
Mary Moniz                                                                                       Kathleen Stelmach
Torchia Communications                                                                Torchia Communications
416-341-9929 ext. 221                                                                     416-341-9929 ext. 227
mary@torchiacom.com                                                                    kathleen@torchiacom.com