TORONTO, April 8, 2020 – Pizza Pizza's latest innovation comes at a time when food safety is more important than ever. Revealed today, Pizza Pizza's Tamper Proof Pizza Box features a safety locking mechanism that must be broken by the customer to access the pizza inside. The proprietary Tamper Proof Pizza Box provides customers with an extra level of assurance that their pizza is untouched, from the moment it leaves the oven, to the time it arrives at their door.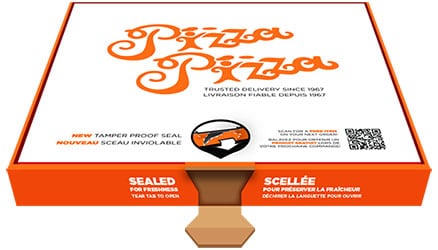 "The health and safety of our customers, staff and franchise operators has always been our top priority," said Paul Goddard, CEO at Pizza Pizza. "Our team has been working tirelessly to adapt to the recent health crisis, so that we can continue to provide safe and secure service to Canadians. We are pleased to be able to offer a packaging solution that will give our customers added confidence in knowing their food is protected and safe."
Distribution of the new Tamper Proof Pizza Box begins today. Pizza Pizza aims to have the pizza boxes available in all sizes at all 420 restaurants across the country, by the end of this month.
Pizza Pizza restaurants adhere to strict preparation guidelines, ensuring that each pizza is:
Baked at 500 degrees Fahrenheit

Transferred from the oven using a paddle

Placed directly into the pizza box

Secured in place with the new, integrated Safety Lock

Delivered promptly within the guaranteed delivery time
On March 18, Pizza Pizza was among the first national pizza chains to offer contactless delivery, allowing customers to pre-pay and tip their drivers for online orders to maintain proper social distancing and eliminate contact at the door.
Pizza Pizza has also been feeding frontline health care workers and community shelters since March 20, donating over 20,000 free slices and counting.
For more information, visit www.pizzapizza.ca or follow Pizza Pizza on Instagram and Twitter @PizzaPizzaLtd.
About Pizza Pizza Limited
For more than 50 years, Pizza Pizza Limited has been guided by a vision of "Always the best food, made especially for you", with a focus on quality ingredients, customer service, continuous innovation and community involvement. With more than 750 locations across Canada, the company is Canada's pizza pioneer and a quick-service restaurant leader, operating two banners – Pizza Pizza and Pizza 73 – that deliver quality food choices, diverse menus and exciting promotions for all tastes, lifestyles and budgets. Visit www.pizzapizza.ca and www.pizza73.com for more information.
For media inquiries: media.relations@pizzapizza.ca